The greatest North American soccer player of all time, Donovan won the US Player of the Year award in 2002, 2003, 2004, 2007, 2008, 2009 and 2010. He joined Everton in early-2010 for the first of two exhilarating loan spells…
I have fond memories of my times at Finch Farm. On my very first morning, I had enjoyed a great training session and was buzzing when we came back to the locker room. Then Phil Neville shouts, "Landon, why didn't you train today pal? Are you injured?" I didn't understand the banter, so I was like, "What do you mean? I was out there … you didn't see me?" Of course, the whole locker room lost it laughing at my expense.Donovan credits the Everton coaches with emphasising the importance of hard work...
Alan Stubbs told me, "If you run and work your ass off, the people here will love you. You don't always have to score but if you work hard, they will appreciate it." While it stuck with me, I only really got it when I made a tackle and the Goodison crowd went crazy! Throughout games, I kept saying to myself, "Run, tackle and fight. Run, tackle and fight." I played 13 games during my first loan spell but each time I was absolutely exhausted at the end.

I was so appreciative of the way that people took to me. The fans inspired me. They knew that in an evening game they could make Goodison electric. It was unlike anything I've experienced in my life. We would score and the roof would come off the iconic stadium.He was already an established USA star who had tried his luck in the Bundesliga when the Premier League, namely Everton, first came calling in January 2010…
Tim Howard and I had a lot of conversations about European soccer, including the one when he let me know that Everton were interested, but I have to be honest having the opportunity to play for that football club in the English Premier League was an easy decision.

The question was "How are we going to make it work?" but we found a way, thankfully. I flew to the United Kingdom and arrived at Goodison during the half-time interval of an FA Cup game against Carlisle United. I had never known an atmosphere quite like it. The crowd was intimidating and it was inspiring.

Any American who has ever been to Goodison wouldn't come away as anything other than a die-hard fan. There is no way you couldn't fall in love with that place after watching a match there. Everyone was so accepting of me, even though I'd only just arrived and felt I didn't deserve the way they were with me, and I was so determined not to let them down.Donovan's introduction came on a wet, windy, snowy day in North London. The travelling Blues were interested to see how the boy from Los Angeles would cope…
David Moyes didn't name the team until we got to the stadium and so there was no time for me to think too much about it, which I thought was quite clever of him. The manager told me to just get out there and do my stuff for as long as I could. It went well until I began to cramp up around 70 minutes. That game is a really special memory. I always preferred playing in cold weather and that's part of the reason why I enjoyed playing in England. I remember thinking that 2-2 at The Emirates was a good result but I vividly recall going into the locker room after the game and Tim Howard, Phil Neville, Tim Cahill and others were absolutely livid that we had conceded a late goal and drawn the game. That said a lot about what Everton Football Club was about.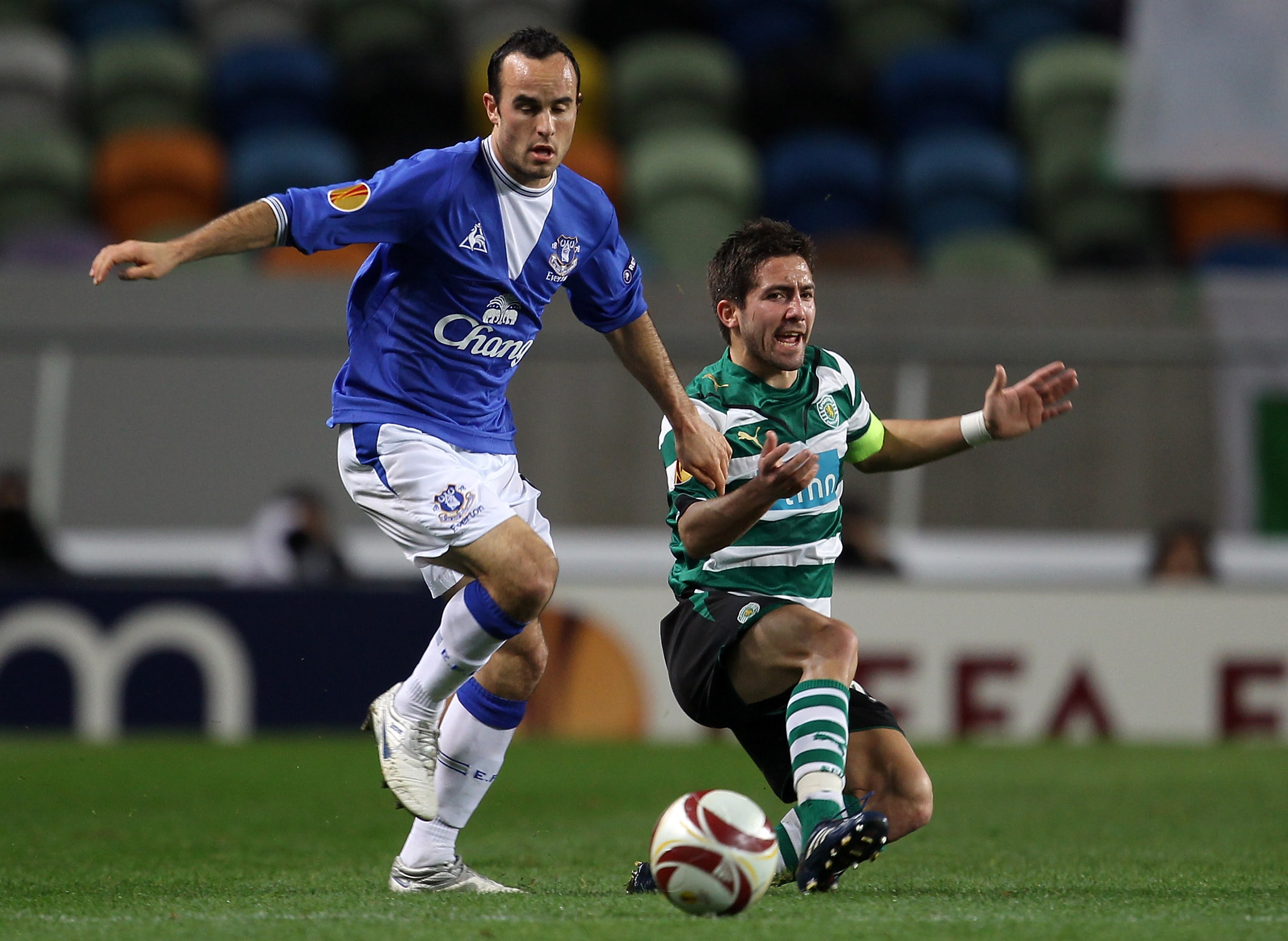 Landon Donovan loved Everton and Everton loved Landon Donovan. Although the loan spell went well, the man with strong principles resisted the opportunity to extend the love affair...
Towards the end, David Moyes brought me into his office and told me that he wouldn't be doing his job if he didn't ask me to stay. But I had made a pact with Los Angeles Galaxy that in exchange for the letting me join Everton, I had promised them that I would go back. It was really tempting in the United Kingdom because from a soccer point of view it was three of the best months of my career, but I did want to keep my word to the Galaxy.

To be honest, I had some hesitations the second time because I didn't want to ruin what had happened before. Sometimes the sequel to a good movie can be terrible! But I couldn't turn down the opportunity to go back to Everton. It was odd because I had never joined a team that was in the middle of their season, so that was an interesting dynamic for me.

But fortunately, I had a great reception from everyone and having Tim Howard there helped immensely. The staff, the fans and the rest of the players were great, so I was able to settle in quickly. Tim put Everton on the map in the USA and made the team a household name, which launched fan groups across the country.This is an edited extract from Toffee Soccer: Everton and North America published on 10 June 2021.