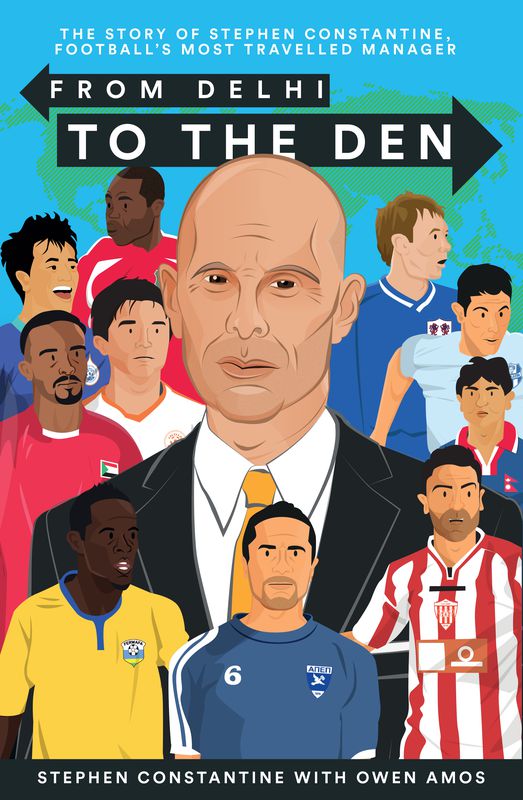 From Delhi to the Den: The Story of Football's Most Travelled Manager
Stephen Constantine
£12.99 £10.99
In stock
Your purchase supports independent publishing
---
Shortlisted for the Sports Book Awards 2018 Best Football Book of the Year
A gripping tale of triumph over adversity which should be required reading for all coaches and for anyone who doubts something can be achieved out of nothing.
Overall, the book, ghost-written by BBC journalist Owen Amos, is a crisp read which will not only be a part of the reading lists of fans interested in Indian football but will also be considered by general football lovers.
Refreshing, no-holds-barred candour that makes Constantine's book such an interesting and valuable view into the innards of the international football machine.
A soccer vagabond, who is currently guiding the Indian national team, recounts priceless adventures in Europe, the United States, Africa and Asia.
From the Cypriot fourth division to the Indian national team, Stephen Constantine's career has taken the scenic route. Ever since leaving his home in Cyprus with nothing at the age of 16, Constantine has been used to life on the road; his sense of adventure dwarfed only by his appetite to improve and develop those he works with.
That yearning for fresh experience has inevitably led Constantine into a host of unique situations. He has hugged a pitch-invading prince in Kathmandu. He has been threatened with kidnap in Khartoum. He has seen the Millwall chairman tip £10,000 onto the changing room floor, and he has watched his goalkeeping coach attack a pitch invader in Congo.
Many in the game alleged to have seen it all, but there is no one with a better claim to such a statement than Constantine, a veteran manager of six different national sides across four continents.
But From Delhi to the Den isn't simply a tale of one man planning his next coaching expedition in another far-flung corner of the world. Constantine explores the pressures of paying the mortgage when most jobs don't last 12 months, and the solitude of life on the road when your wife and children still reside thousands of miles away.
We hear of how qualifications are trumped by reputations, and why dealing with Football Associations isn't exactly plain-sailing, especially with governmental interference.
Constantine's journey – for the time being, anyway – ends up in India, where he is looking to stir the passions and enhance the professionalism of Asia's sleeping giant. Progress has already been achieved, but nothing is finished yet.
Anyone interested in football, travel, or adventure will love this book.
About the Authors
Stephen Constantine has managed five national teams, which is more than any other Englishman. His first national job was in Nepal in 1999; he has since managed India, Sudan, Malawi, and Rwanda. Born in London, and raised in England and Cyprus, Constantine also spent a year as Millwall's first team coach. After taking India to the AFC Asian Cup for only the fourth time in India's history in 2019, he left as head coach and runs FIFA courses for coaches and players around the world.
Owen Amos, who collaborated with Stephen on this book, is a senior journalist for the BBC website. He has previously worked for BBC Radio 4 and began his career as a reporter on the Northern Echo in Darlington.
| | |
| --- | --- |
| UPC | 9781909245471 |
| Author | Stephen Constantine |
| Depth | 25.0mm |
| Format | Paperback |
| Height | 230.0mm |
| ISBN-13 | 9781909245471 |
| Pages | 212 |
| Width | 150.0mm |
| Publication Date | Sep 2017 |
A fascinating and entertaining insight into the life of a footballing nomad. We visit unfamiliar places, hear of unlikely sporting scenarios and meet people whose names we have never heard, but whose stories deserve to be told. Best of all, Constantine's voice comes across loud and clear and we are given of a rich understanding of the obsessions that drive this man. Football - it's a serious old game. Highly recommended.

Reviewed by Andy White on 7 Jan 2018 | Permalink

This review has no votes.

Really enjoyed the book and read and hearing about all of Stephen's international experiences, his challenges and life of a coach. Lots of good stories to keep you on the edge of your seat. Certainly recommend it.

Reviewed by Anonymous Reviewer on 4 Aug 2017 | Permalink

This review has no votes.

An excellent book written in an easy to read style. It illustrates the realities of coaching outside the English Premier League. The struggles, the dangers, the problems, but also the fun, the passion and love of the game. I highly recommend this book to any Coach of any sport.

Reviewed by steve darby on 26 Jul 2017 | Permalink

This review has no votes.